News Room
County Clerk NFTA and TSA collaborate to prepare travelers for new federal standards
Erie County Clerk Michael P. Kearns
     Erie County Hall 92 Franklin St. Buffalo, NY 14202 (716) 858-8866
FOR IMMEDIATE RELEASE:
DATE: May 15, 2019
CONTACT:     Kelly Krug
                        716-858-6985 / 716-923-3936
Buffalo, NY- Erie County Clerk Mickey Kearns, the NFTA and TSA have teamed up to help residents in obtaining their REAL ID or Enhanced Driver's License for air travel.  The Erie County Auto Bureau staff will assist travelers with their visit by providing accurate information on what specifically will be required for licenses and non-driver IDs before October 1, 2020.  Kearns will ensure that customers are educated and will have the proper documents needed for their visit to the Auto Bureau.  The County Clerk's initiative is to educate and prepare travelers for the REAL ID deadline in order to make processing REAL IDs and Enhanced Driver's licenses more efficient.   This will also reduce wait times when customers visit the Erie County Auto Bureau.  Staff will also help customers with scheduling an on-line reservation at a date and time most convenient for customers.
When it was passed by Congress in 2005, the REAL ID Act established minimum security standards for state issued driver licenses, permits and ID cards.  Beginning October 1, 2020, the federal government will require drivers licenses, permits or ID cards to be REAL ID compliant if a person wants to use the documents to board a domestic flight (within the U.S.), enter military bases or enter certain federal facilities.
County Clerk Kearns stated, "In order to better serve Erie County residents, I am implementing the 'Ready, Reserve, Renew' campaign.  Over the next 500 days between now and October 1, 2020 when the REAL ID Act takes effect, my office will be hosting a minimum of 250 CLERK ON THE GO Outreaches throughout Erie County starting here at the Buffalo International Airport."
"We are doing everything possible to ensure that our travelers, who rely on us to get them to where they're going remain as informed as possible" said Bill Vanecek, NFTA aviation director. "That's why it is so important to get the word out early and to be sure questions about REAL ID are addressed."
According to TSA, REAL ID is a coordinated effort by the federal government to improve the reliability and accuracy of driver's licenses and identification cards. The improvements are intended to inhibit terrorists' ability to evade detection by using fraudulent identification.
Kearns encourages those who need their current ID updated into a Federal Compliant ID to make an on-line reservation at the Auto Bureau before visiting.  Kearns stated, "By utilizing our on-line reservation system, customers are guaranteed service at an office conveniently located near them, at a time of their choice.  In short, they will not have to wait in line.  I encourage everyone to take advantage of our CLERK ON THE GO Outreaches and #GETREADY for the Real ID Act.  When customers utilize this service with the proper forms and documents, transaction time at the auto bureau is more efficient and convenient."
To learn more about REAL ID, attend an upcoming CLERK ON THE GO Outreach, or make a reservation at the Erie County Auto Bureau, visit www.erie.gov/clerk or email us at ErieCountyClerkOffice@erie.gov.
Groundbreaking Ceremony for the Buffalo Airport Upgrade
BUFFALO, N.Y. - The Niagara Frontier Transportation Authority formally begins construction of terminal enhancements at the Buffalo Niagara International Airport, the project we affectionally call #BUFUP, on Monday, May 13.  
Kimberley Minkel, NFTA executive director, said, "In 2018, J.D. Power ranked the Buffalo Niagara International Airport number one in customer satisfaction for medium-sized airports in North America. We are not resting on those laurels. The improvements will help ensure Buffalo remains the finest airport in North America."
The largest upgrade for the Airport since the new terminal's construction, this series of enhancements is all about passenger flow. Airplanes rely on aerodynamics to fly; superior airports pay attention to passenger-dynamics. The Buffalo Airport is investing in ways to improve passenger movement through the terminal, making it as easy and efficient as possible. Upgrades include a wider security entrance, doubling the number of exits, larger inspection areas and faster baggage claim. The upgrade also creates more comfortable waiting areas for passengers transitioning to cars, buses and vans. The project is expected to take three years. Passengers can follow all of the progress at http://www.buffaloairport.com/BufUp/
Digging in to BUF-Up!
What:           Ground breaking ceremony to mark the start of construction project at the Buffalo Airport.
When:          Monday, May 13, 2019, 9:00 a.m.
Where:        Buffalo Niagara International Airport Former Limo lot
 (see attached map for exact location)
Who/Why: Government, civic, and business leaders will join the NFTA to commemorate the start of airport construction. It is an exciting time for Western New York.
Parking:      There will be limited space at the construction site, the best place to park is in the parking ramp, we will validate your ticket.
*** The event is being held in the construction site, which will be great for visuals,
        but not so much on footwear, so wear boots or old shoes*** Hard hat optional!! ***



Operation: Snow Fighter Kicks off 5 Days of Airfield Snow Removal and Safety
FOR IMMEDIATE RELEASE                                             April 26, 2019
Buffalo Hosts the 53rd Annual International Aviation Snow Symposium

Who: Airfield professionals from across the country and world
What: The 53rd Annual International Aviation Snow Symposium, this is an equipment year, so the Buffalo convention center will be filled with a diverse variety of winter operations equipment, related services and solutions for airports. This event is presented by the Northeast Chapter of the American Association of Airport Executives and the Buffalo Niagara International Airport. Focused exclusively on airfield snow removal and winter operations, the purpose of the event this year is to provide new educational programs, more opportunities for networking, a variety of ideas about winter operations, and a range of partnership sponsorship opportunities.
To clean-up after a heavy snowstorm and to absorb the associated operating delays can easily cost a major airport more than a quarter of a million dollars. Another purpose of the snow symposium is to show how these costs can be minimized by utilizing the sound strategies, effective equipment and efficient techniques for coping with snow, slush and ice.

Where: Buffalo Convention Center (Snow Plow Rodeo at Buffalo Airport) 
When: Saturday, April 27th to Wednesday, May 1st
Link with detailed information: snowsymposium.org
NEWS RELEASE


NFTA Metro Police officers are asking for help finding a missing teenager.
Police say 14-year-old Beonica Henley was last seen Wednesday evening at a friend's home in Buffalo.
According to officers, the Buffalo teenager may have been at a Metro Rail location over the past 24 hours. Transit Police are working collaboratively with the Buffalo Police Department.
Anyone with information is asked to contact Transit Police at 855-6405.
LOCAL STUDENTS LEARN AVIATION 101
FOR IMMEDIATE RELEASE                                           
 What:           Career Fair "Fly-In" with Maryvale High School NAF Students
When:          Tuesday, April 16, 2019,  11:00 a.m.-1:45 p.m.
Where:        Prior Aviation – Hanger #2 (see attachments for exact location)
Who/Why: Selected 10th grade Maryvale High School students enrolled in the   National Academy Foundation's 3-year
                  Academy of Hospitality and Tourism Program.  The program was initiated to help students decide upon and
                  prepare for a career in the hospitality industry. There will be approximately 20+ students in attendance plus
                  three-four program advisors.
Tobacco-Free Erie-Niagara and the NFTA Partner to Get Tough on Smoking
March 20, 2019
BUFFALO, N.Y. - Tobacco-Free Erie-Niagara and the NFTA are uniting against tobacco use on March 20th, and they join
thousands of young people nationwide to mark Kick Butts Day. More than 1,000 events are planned across the United States
for this annual day of youth activism, sponsored by the Campaign for Tobacco-Free Kids.
Today, the NFTA-Metro announced an increased No Smoking campaign, that includes amplified signage at bus stops and
on the rail. "We are increasing awareness of the anti-smoking laws through improved customer signage and backing it
up with increased enforcement activities as this is a very serious issue for our riders" said Director of Public Transit,
Tom George.
On Kick Butts Day, kids encourage their peers to be tobacco-free, reject tobacco companies' devious marketing and urge elected officials to help make the next generation tobacco-free.
Secondhand smoke is a human carcinogen for which there is no safe level of exposure, not even outdoors. According to
the Centers for Disease Control (CDC), secondhand smoke causes more than 7,300 lung cancer deaths among U.S. nonsmokers each year. Nonsmokers who are exposed to secondhand smoke are inhaling many of the same cancer-causing substances and poisons as smokers. Additionally, cigarette butts are also the most littered item in the world, and discarded cigarettes pollute
land and waterways, diminish the beauty of our public spaces and are poisonous to wildlife and children who may ingest them.
"It's our responsibility to do everything we can to make sure community settings like bus and rail stops are free from secondhand smoke," said  Mark Travers, PhD, Research Scientist at Roswell Park Comprehensive Cancer Center. " I applaud the NFTA as a cancer researcher, and I thank them as a parent for their steps to make sure our transportation system is clean and safe for our most vulnerable citizens - including our children and those struggling with lung disease, heart disease, and cancer, all caused by tobacco."
For riders who smoke, Travers notes that smoking is an addiction, one that's hard to quit. Based at Roswell Park and supported by the New York State Department of Health Tobacco Control Program, the NYS Smokers' Quitline is here to help. Tobacco treatment specialists are available at 1-866-NY-QUITS (1-866-697-8487).
About Tobacco-Free Erie-Niagara
The New York State Department of Health, Bureau of Tobacco Control funds Tobacco-Free Erie-Niagara to increase support for New York State's tobacco-free norm through youth action and community engagement. Efforts are evidence-based, policy-driven, and cost-effective approaches that decrease youth tobacco use, motivate adult smokers to quit, and eliminate exposure to secondhand smoke. Tobacco-Free Erie-Niagara is a part of Roswell Park Comprehensive Cancer Center.
Proposed Legislation Will Be a Big Boost to Western New York
BUFFALO, N.Y. -  The Niagara Frontier Transportation Authority (NFTA) is thanking New York State Senator Tim Kennedy, Chair of the Senate's Transportation Committee, and Governor Andrew Cuomo for recognizing the significance of public transit services in Western New York. The Executive budget and the NYS Senate One House Bill both call for an increase in state transit operating assistance. In addition, the Senate One House calls for an 18.7 percent increase for NFTA; $6 million for preliminary engineering for the Amherst-Buffalo Metro Rail expansion project; and $100 million for improvements to light rail systems outside of the MTA service area.
"For years, I have fought for more operating funds for the NFTA, as well as the capital funding they need to maintain Metro Rail - the only light rail system outside of the MTA," said Senator Kennedy. "The Senate's proposed budget makes a strong statement as we enter negotiations with the Executive Branch and the Assembly on our final budget. It makes it clear that the Senate Majority is making Upstate and Western New York a top priority. As negotiations move forward, I'll fight to maintain the highest levels of funding possible for our local transportation needs."  
The Niagara Frontier Transportation Authority Executive Director Kim Minkel said "We appreciate Senator Kennedy for recognizing the critical role that Metro bus and rail service has in our community and how important it is in the re-development of the City of Buffalo and Western New York. Adequate funding for public transit is an absolute necessity for our entire community and for the thousands of riders who count on us each day."
Executive Director Minkel will speak at Friday's Senate Hearing on Transit in Western New York.
Refreshed Downtown Station to be Renamed Evans Bank@Lafayette Square Station
Thursday, February 28, 2019---Evans Bancorp has entered into an agreement in principle with the Niagara Frontier Transportation Authority to purchase the naming rights for the NFTA's Lafayette Square above-ground Metro Rail station. Located steps away from the bank's new Business & Relationship Center at Main & Court streets, the "Evans Bank @ Lafayette Square Station" will promote the bank's entry into downtown Buffalo last October. 
"At Evans, we believe strongly in public/private partnerships and this one is truly a win-win," said David J. Nasca, Evans Bank President & CEO. "This agreement reinforces our downtown presence and allows the public to enjoy an updated and refreshed station in a highly trafficked downtown corridor."
Under the agreement, both the inbound and outbound stops will display the Evans logo prominently atop the stations and ticket machines will be refreshed in Evans orange. Additional branding will appear on station shelter signs and maps, internal digital and audio message boards, online and digital schedules and in three rail cars.
"The new naming rights agreement is yet another example of Evans Bank's commitment to the Western New York Community," said Sister Denise Roche, Chairperson, NFTA Board of Commissioners. "We are excited and appreciative because this will provide us with a creative source of revenue and help us continue to maximize public transportation and better connect our community."
The initial term of the agreement is for five years with an option to renew for an additional five-year term.  
About Evans Bancorp, Inc.
Evans Bancorp, Inc. is a financial holding company and the parent company of Evans Bank, N.A., a commercial bank with $1.4 billion in assets and $1.2 billion in deposits at December 31, 2018. Evans is a full- service community bank, with 15 financial centers providing comprehensive financial services to consumer, business and municipal customers throughout Western New York. Evans Bancorp's wholly owned insurance subsidiary, The Evans Agency, LLC, provides life insurance, employee benefits, and property and casualty insurance through ten insurance offices in the Western New York region. Evans Investment Services provides non-deposit investment products, such as annuities and mutual funds. Evans Bancorp, Inc. and Evans Bank routinely post news and other important information on their websites, at www.evansbancorp.com and www.evansbank.com.
For Amherst Metro Rail Extension
For Immediate Release: Thursday, February 22, 2018


Buffalo Billion milestone marks major move to connect communities and build on the region's economic progress through rail expansion
Empire State Development today announced the NFTA Board of Commissioners awarded the environmental review and associated engineering design service contract to the Buffalo office of WSP Inc., one of the world's largest engineering firms, for Phase I in the Amherst Metro Rail Extension. This is a major milestone in a visionary project under the Buffalo Billion program. 
"This is an important step in the second phase of the Buffalo Billion that will ultimately connect communities as well as Buffalo Billion investments, and provide significant economic progress through rail expansion," said Empire State Development President, CEO and Commissioner Howard Zemsky. "Thanks to Governor Cuomo's leadership we're now making critical investments in projects like the light rail which will improve the overall reliability and connectivity of transportation services, as well as the upcoming DL&W station that will further enhance the region's quality of life."
"This is an historic and exciting day for the NFTA," said NFTA Executive Director Kimberley Minkel.  "We are grateful to Governor Andrew M. Cuomo for his support and vision for this transformational project."
In 2017, the Niagara Frontier Transportation Authority (NFTA) completed the Transit Options Amherst-Buffalo Alternatives Analysis (AA) that recommended a Locally Preferred Alternative (LPA) for extending the existing light rail system along the Niagara Falls Boulevard alignment. This alignment is generally defined as an extension from the existing terminus at University Station underground along Bailey Avenue to a portal near Eggert Road. It would then travel at grade along Niagara Falls Boulevard turning onto Maple Road then to Sweet Home Road, onto UB North Campus to Audubon Parkway where it would terminate near the I-990.  


On January 9, 2017, Governor Andrew M. Cuomo announced $5 million in funding would be made available under the Buffalo Billion II Program to complete the environmental review for the light rail extension into Amherst. The NFTA Board approved this LPA on January 26, 2017 and authorized staff to initiate the environmental review process, including preliminary design as the next step toward implementation of the project.
"This feasibility study will give us some critical information on the most reasonable path for the light rail expansion," said Amherst Chamber of Commerce President/CEO A.J. Baynes. "Providing improved access to the future redevelopment of Niagara Falls Boulevard and the University at Buffalo will only continue our growth and prosperity in the region."
"Redefining and preparing our communities to meet demands of future residents requires investment in transit and connectivity," said Town of Amherst Supervisor Brian J. Kulpa. "Enhanced transit is important to the future of the Town of Amherst, the Town of Tonawanda, and the future of Western New York. Enhanced transit will provide access to jobs and workforce mobility, link regional educational institutions, and support the transformation of Niagara Falls Boulevard."
The scope of the work that will be done by WSP, Inc. includes:
Refinement of the Locally Preferred Alignment (LPA) including;

Re-evaluating the LPA alignment versus entering Niagara Falls Boulevard earlier
Re-evaluating median running versus side running or another alignment
Additional storage and maintenance facilities
Conduct Public Outreach and Agency Coordination (including local, state and federal agencies)
Develop NEPA scoping packet
Conduct NEPA and follow the required federal guidance to complete DEIS and FEIS
Conduct conceptual design of the LPA (description above)
Conduct a traffic impact study and refine STOPS modeling with the addition of special market trips
Develop operations plans for extending LRT
More information about Buffalo Billion Phase II and the Light Rail Extension can be found here.


About Empire State Development
Empire State Development (ESD) is New York's chief economic development agency (www.esd.ny.gov). The mission of ESD is to promote a vigorous and growing economy, encourage the creation of new job and economic opportunities, increase revenues to the State and its municipalities, and achieve stable and diversified local economies. Through the use of loans, grants, tax credits and other forms of financial assistance, ESD strives to enhance private business investment and growth to spur job creation and support prosperous communities across New York State. ESD is also the primary administrative agency overseeing Governor Cuomo's Regional Economic Development Councils and the marketing of "I LOVE NEW YORK," the State's iconic tourism brand. For more information on Regional Councils and Empire State Development, visit www.regionalcouncils.ny.gov  and www.esd.ny.gov.
Two Transit Police Officers and K-9s are going to Atlanta
January 21, 2019
BUFFALO, N.Y., While our beloved Bills are not Superbowl bound this year, Buffalo will be represented at this year's big game. K-9 teams Christie Clifford and Harvey, and Mike Bogulski and Lyka were selected by Homeland Security to join the security detail at Super Bowl 53. It is a great honor and illustrates the level of experience and excellence of these law enforcement. We will be wishing our officers and their K-9s goodbye and safe travels this afternoon. All will be available to talk about this great experience they are about to have. 
WHO:   Officers Christie Clifford, Mike Bogulski, K-9's Lyka and Harvey
WHEN: 1PM, Tuesday, January 22
WHERE: MTC, 181 Ellicott Street, Buffalo New York      
ALLEGIANT ANNOUNCES NEW NONSTOP SERVICE TO SAVANNAH WITH FARES AS LOW AS $49* EACH WAY
NIAGARA FALLS, N.Y. Jan. 15, 2019 — Allegiant (NASDAQ: ALGT) today announces service from Niagara Falls to Savannah, Georgia via Savannah / Hilton Head International Airport (SAV) beginning June 7, 2019. To celebrate, the company is offering fares on the new route as low as $49* each way.
"We're very excited to announce this brand-new service from Niagara Falls International Airport," said Drew Wells, Allegiant vice president of planning and revenue. "We're sure area travelers will appreciate the opportunity to get away to beautiful Savannah on these convenient, nonstop, ultra-low-cost flights."
This new seasonal service will operate twice weekly. With the addition of this new route, Allegiant will now serve four cities from Niagara Falls International Airport (IAG). Flight days, times and the lowest fares can be found only at Allegiant.com.
"We are pleased that Allegiant Air will provide new service to this popular destination," said Kimberley Minkel, the NFTA's executive director. "This new service illustrates the ongoing commitment we have to our recreational and business travelers, as well as our continued growth and ability to attract economic development to Western New York. We are incredibly proud to provide award winning services for our many customers."
Allegiant offers a unique option to Niagara Falls-area travelers with low base fares and savings on rental cars and hotels. Travelers can book their entire vacation with Allegiant for less.
*About the introductory fares:
Price displayed reflects purchase of a roundtrip itinerary and includes taxes, carrier charges & government fees. Seats and dates are limited and fares are not available on all flights. Flights must be purchased by Jan. 16, 2019 for travel by Aug. 13, 2019. Fare rules, routes and schedules are subject to change without notice. Optional baggage charges and additional restrictions may apply. For more details, optional services and baggage fees, please visit Allegiant.com.
Allegiant®
Las Vegas-based Allegiant (NASDAQ: ALGT) is focused on linking travelers to world-class leisure destinations. The airline offers industry-low fares on an all-jet fleet while also offering other travel-related products such as hotel rooms and rental cars. All can be purchased only through the company website, Allegiant.com. Beginning with one aircraft and one route in 1999, the company has grown to over 80 aircraft and more than 300 routes across the country with base airfares less than half the cost of the average domestic round-trip ticket. For downloadable press kit, including photos, visit: http://gofly.us/ToZT30iauev.
Allegiant Public Relations
Phone: 725-221-9937
Email: communications@allegiantair.com
BNIA Celebrates Serving Five Million Passengers in 2018
NEWS RELEASE


BUFFALO, N.Y. - The Niagara Frontier Transportation Authority is thrilled to announce the five millionth traveler has passed through the Buffalo Niagara International Airport. The airport is continuing to see growth, having handled more than 300,000 additional passengers in 2018 compared to last year.
Laura Tevens is officially the five millionth passenger to walk through the doors of the Buffalo Airport.  Laura and her husband Greg, from Getzville, along with their two daughters were greeted at the airport with prizes including a $500 airline travel gift card and BNIA travel swag. The Tevens family were flying out of Buffalo to Orlando International Airport on Southwest Airlines. The Tevens' found out it really pays off to travel from the #1 airport!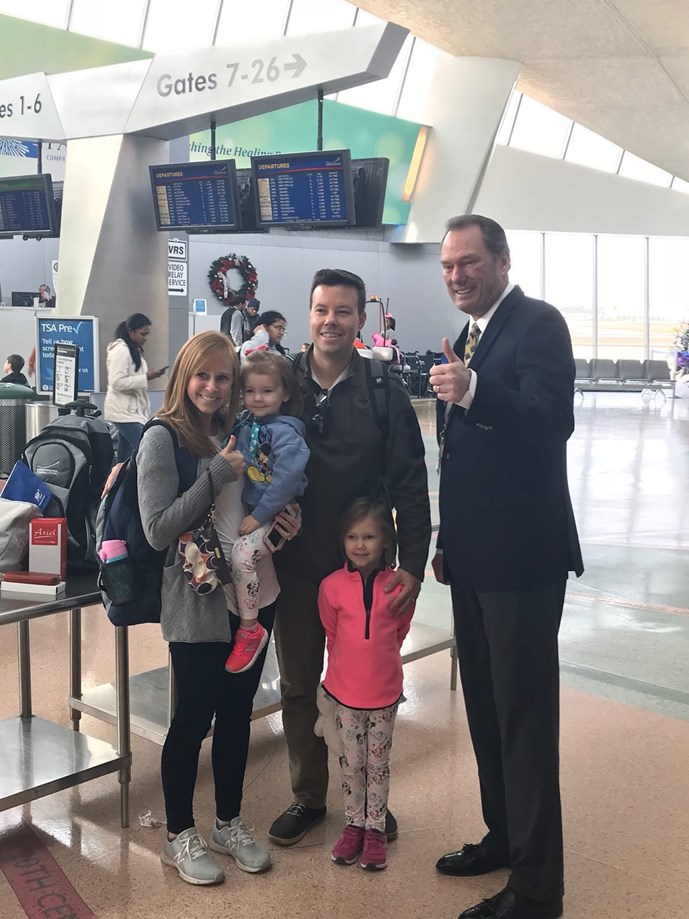 New Daily Buffalo to Dallas/ Fort Worth and Seasonal Buffalo to Miami Flights Take Off This Morning
NEWS RELEASE


BUFFALO, N.Y., - The Niagara Frontier Transportation Authority is thrilled to announce two American Airlines non-stop flights took off this morning at the Buffalo Niagara International Airport. Passengers took advantage of the brand new, daily non-stop flight from Buffalo to Dallas/ Fort Worth and seasonal non-stop flight Buffalo to Miami this morning.  
William R. Vanecek, the NFTA's Director of Aviation said, "We are pleased that American Airlines will provide two new options for travelers to these popular destinations. This illustrates the continuing air service growth at the Buffalo Niagara International Airport."
"We're very excited to mark this occasion," said Roy Wallace-Reeves, General Manager for American Airlines in Buffalo. "We know how important access to our large hubs is to customers and the opportunities these new flights will present."
Western New York Students Kick Off Sounds of the Season With a Noteworthy Cause
NEWS RELEASE


BUFFALO, N.Y.-, The Niagara Frontier Transportation Authority is proud to present its holiday Sounds of the Season again this year in the downtown bus terminal, (181 Ellicott Street) for its 11th year.  Talented local students will perform live holiday music from Friday, December 14 through Friday, December 21.  The holiday entertainment is always a popular tradition and helps bring joy to travelers in our busy downtown bus terminal and throughout our Metro bus and rail system.
This year, we will also be collecting cans of soup and new socks to benefit the Food Bank of Western New York and the Matt Urban Hope Center, respectively.  The public can donate items at the bus terminal during any of our lunchtime performances by the Buffalo Public Schools or at our Airport firehouse (120 Amherst Villa Rd).  All collected items will be provided to families in need within our local community.
The following schools will be participating on the date and time indicated:
Fri., Dec. 14                Akron Central High School    8:15-8:40 a.m. 
                                 (Mobile Santa Band)
                                  Buffalo Academy of Visual    10:15 a.m.
                                  and Performing Arts (BAVPA)
Mon., Dec. 17              Hutch Tech HS #304             11 a.m.
                                  Hutch Tech HS #304             12 p.m.
Tues., Dec. 18              Olmsted HS #156                 11 a.m.
                                  Discovery Elementary #67     12 p.m.


Weds., Dec. 19            Southside Elementary #93      11 a.m.
                                 Visit from Metro Santa
                                 Waterfront Elementary #95    12 p.m.
Thurs., Dec. 20           BAVPA #156                          11:30 a.m.
Fri., Dec. 21               Olmsted #156                        12 p.m.
Each musical performance will feature 40-50 students who will entertain for approximately 45 minutes. All are welcome to attend.  
NEWS RELEASE


BUFFALO, N.Y. - NFTA/Metro Bus and Rail will host a Public kick-off for its Metro Rail Expansion project, Thursday, December 6, 5:00 to 7:00 p.m., at Sweet Home Middle School, 4150 Maple Rd., Amherst NY. 
Kimberley A. Minkel, NFTA Executive Director said, "For more than 30 years, our community has considered increasing the reach of Metro Rail. With new growth in the region, this may be the perfect time to expand our most efficient, environmentally friendly form of mass transportation. This meeting provides a great opportunity for our team to share the latest information on the project, and for our community to offer valuable feedback." 
NFTA and Metro staff welcome the community to the first public look at Metro's newest plans. This kick-off marks the beginning of the Environmental Impact Statement process. It will assess visual effects, noise, financial, economic and other factors that go into development, construction, and the resulting rail line. Project renderings will be on display, with design and routing ideas. It's a great opportunity for the public to interreact directly with Metro staff, planers, and consultants.

MEDIA ADVISORY AND PUBLIC NOTICE


WHAT:          The Buffalo and Fort Erie Public Bridge Authority (PBA) and Niagara Frontier
                     Transportation Authority (NFTA) will unveil two Trusted Travel program computer
                     application kiosks for airport passengers
WHEN:          Tuesday, December 4, 2018,  10:00 a.m.
WHERE:        Buffalo Niagara International Airport
                    4200 Genesee Street, Cheektowaga, NY 14225


WHO:           PBA representatives,  NFTA representatives
                    Area elected officials
PARKING: Daily/Hourly Garage; parking will be validated.
Enter the airport, proceed to the second floor, then walk to the end of the main
departure ticketing area. The press conference will be hosted on the west (left) side of the passenger ticketing area, near the Vacation Express desk
For more information please contact:
Kelsey Hanks, khanks@martingroupmarketing.com, (401) 714-5981
Buffalo is #1
NEWS RELEASE

BUFFALO, N.Y., - It's not the Lombardi trophy or Stanley cup, but the Buffalo airport will have the honor of being home to the prestigious J.D. Power award after ranking number one in customer satisfaction among all medium hub airports in North America. Today, NFTA and elected leaders along with civic and business partners came together to celebrate this great day.
"New York is making record investments in airports across the state because airports are the new front doors to our communities, "Governor Andrew Cuomo said. "Buffalo Niagara International Airport's status as a top-flight airport will help boost tourism and economic development in the region and burnish its reputation as a must-visit destination."
"This honor is the outcome of our total focus on the customer experience under the exceptional leadership of NFTA's board of commissioners, led by Chairwoman Denise Roche," Said Kimberley Minkel, executive director at the NFTA. "We share this accolade with our tenants, including TSA and Delaware North, in providing the best travel experience possible at the Buffalo Airport. We are also grateful for the continual support from Governor Andrew Cuomo and our many government, business and civic leaders. We are fortunate to have this extraordinary backing."
Buffalo Niagara International Airport received the highest score among medium airports in the J.D. Power 2018 North America Airport Satisfaction Study of customers' satisfaction with their airport experience. Visit jdpower.com/awards
The study is based on responses from 40,183 North America travelers who traveled through at least one domestic airport and covers both departure and arrival experiences (including connecting airports) during the past three months. Travelers evaluated either a departing or arriving airport from their round-trip experience. The study was fielded from September 2017 through September 2018.



El Museo Unveils Unique Art Project for All
NEWS RELEASE


BUFFALO, N.Y., - El Museo, the professionally directed visual arts organization dedicated to the exhibition of contemporary work by underserved artists, and cultural programming that engages diverse communities through the arts and humanities is excited to share a public installation of artworks by four local artists, Obsidian Bellis, Bleu-Ruby Daniels-Taylor, Tyshaun Tyson, and Imani Williamson. On Friday, November 9th, the artwork was unveiled with the artists in attendance, all of whom have been influenced by their experiences growing up and taking the Metro in Buffalo. "Your Utica Station" aims to inspire transit riders and beautify this unique public space. More on the artists and their work are below.
Tyshaun Tyson is an independent artist from Buffalo who works across traditional and urban art. He also goes by the name "The Left-Handed Bandit," a childhood nickname, and he uses his left hand to transform a wide variety of canvases and textures into works of art using drawing, airbrushing, painting, photography, and more. He received a BA in Art from Buffalo State College in 2013, and founded his business, The Left-Handed Bandit Artistic Services in 2015.
Imani Williamson is an artist based in Buffalo. She uses vibrant colors in traditional and digital media to explore techniques and apply them to the human form. She is inspired by spirituality and human thought, themes which manifest in her work in the form of halos, third eyes, and other spiritual elements. She is currently studying illustration at Daemen College.
Obsidian Bellis is a black femme illustrator and craftsperson who was born and raised in Buffalo. She uses traditional mediums and found objects to create visuals that evoke the mysticism, light, and darkness of navigating society as black and women. Common themes and inspiration in their work are fantasy, nature, celestial bodies, subculture, and body modification.
Bleu-Ruby Daniels-Taylor, also known as user-212521, also known as ugLy k1d, is nineteen. She currently attends Sarah Lawrence College where she is studying art and writing. She prides herself on being a writer and is currently working on an experimental novel. Along with writing, she also is a sound artist. In her spare time, she enjoys creating digital portraits, welding, web design, making short films, and taking self-portraits.


The project was made possible in part by a grant from the Buffalo Niagara Medical Campus and support from the NFTA and Lamar Advertising. The artwork will be on display until December 30, 2018.
                                           MEDIA ADVISORY                  September 28, 2018
What:   The NFTA and Roswell Park will cut the ribbon for our specially branded Pink Police Patrol Car and announce our Metro's October Pink monthly passes all in support of Breast Cancer Awareness month. The teams have come together in a collaborative effort to help remind riders and the entire community about the importance of annual mammography for early detection and prevention of breast cancer.

Who:   Leaders from Roswell Park and the NFTA
Why:  One out of every nine American women will develop breast cancer in her lifetime, which is the second leading cause of cancer death in women. There is no known prevention of breast cancer, but if it is found early and treated, there is a good chance for a cure. That is why it is so important for women to commit to breast cancer detection practices including self-exams and mammograms.                                                         
When:  Monday, October 1, 10:30 a.m.   

Where: NFTA headquarters, 1st floor terminal, 181 Ellicott Street, Buffalo

Contact: Natasha Allard
              716-845-1671
              Natasha.Allard@RoswellPark.org
** Parking will be available the NFTA's bus loop located between N. Division and S. Division Streets.  Please park in spots # 71-79 only. ** 
No Airport is better at satisfying customers than Buffalo's according to the National Customer Ranking Company
NEWS RELEASE


BUFFALO, N.Y., JD Power has ranked the Buffalo Airport number one in customer satisfaction among all medium hub airports in North America and number 2 overall among all airports throughout North America (just one point away from #1).
The 2018 North America Airport Satisfaction Study measures overall traveler satisfaction with mega, large, and medium North America airports by looking into six factors that include, terminal facilities; airport accessibility; security check; baggage claim; check-in/baggage check; and food, beverage and retail.
"This honor is the outcome of our diligent focus on the customer experience under the exceptional leadership of NFTA's board of commissioners, led by Chairwoman Denise Roche," Said Kimberley Minkel, executive director at the NFTA. "We share this accolade with our tenants, including TSA and Delaware North, in providing the best travel experience possible at the Buffalo Airport. We are also grateful for the continual support from Governor Andrew Cuomo and our many government, business and civic leaders. We are fortunate to have this extraordinary backing."


The study is based on responses from 40,183 North America travelers who traveled through at least one domestic airport and covers both departure and arrival experiences (including connecting airports) during the past three months. Travelers evaluated either a departing or arriving airport from their round-trip experience. The study was fielded from September 2017 through September 2018.
Federal Funds to Support Improvements to Runway Apron and Approaches
NEWS RELEASE


Congressman Brian Higgins (NY-26) announced $1,828,253 in federal funding for improvements to the Buffalo Niagara International Airport. 
"Big changes are coming to the Buffalo Niagara International Airport and these federal funds will contribute to a number of projects aimed at improving efficiencies and the passenger experience," said Congressman Higgins. 
"We are grateful for the tremendous support we received from Congressman Higgins," said Kimberley Minkel, NFTA, Executive Director. "This funding will help improve the safety of the airport and provide for the airport's continued growth as we continue to attract economic development to Western New York. It will also allow us to continue to provide award winning personal and business travel services for our many customers. "
The funding comes in two separate federal grants from the U.S. Department of Transportation. The NFTA will receive $856,388 for a project to expand the airport's Remain Overnight Apron (RON) apron, enhancing the airport's capacity to meet RON demand.   An additional grant of $971,865 will allow for land acquisition and structure demolition of property which currently lies within the airport's Runway 14 End Protection Zone (RPZ).
In addition to these improvements, Buffalo Niagara International Airport is planning more than $70 million in upgrades to the terminal which are scheduled to be underway over the next couple years. 
The Buffalo Niagara International Airport serves close to 5 million passengers annually. 
Rail will Operate at 6am to Help Future Stars Make it to Hollywood
NEWS RELEASE


Buffalo, N.Y. -- It's official, "American Idol" is coming to Buffalo this weekend, and NFTA Metro is adding rail service on Sunday for the expected thousands of people looking to be America's next star.
"This is a very exciting time for us here in Western New York," said Helen Tederous, Spokesperson at the NFTA. "This is the first-time that auditions will be held in Buffalo, and we want to be sure transportation is available."
Auditions for "Idol's" next season kicked off earlier this summer in New Orleans. Buffalo is the only location in New York hosting auditions this time around.
The added rail service is a great opportunity for people to experience the ease and efficiency of our system and help them get that ticket to Hollywood.
News Advisory


Transit Police are investigating a body that was discovered at approximately 1:45 this afternoon on the Metro Rail outbound between Summer and Utica stations. Due to the incident the metro rail outbound has been temporarily closed and shuttle buses are providing service. We will update you on the latest information as it becomes available.
The Niagara Frontier Transportation Authority is ready to begin a $72 million expansion of Buffalo Niagara International Airport that will redefine how passengers are greeted and fast track how luggage is retrieved.
Both passenger greeting areas and luggage claim areas are central to the first major renovation to the airport's terminal in several years.
Bids are due to the authority staff on July 31 and recommendations to the authority's board of commissioners are expected to be made by October, at the latest, said William Vanecek, NFTA director of aviation.
The bulk of the construction work will be done next year and in 2020. Some preliminary work may start this winter.
New Buffalo to Miami non-stop service starting in December
NEWS RELEASE


BUFFALO, N.Y., - The Niagara Frontier Transportation Authority is excited to announce that American Airlines will add a daily non-stop Buffalo to Miami run as a winter program starting December 19, 2018 through the end of March 2019. This service will be on an Airbus 319, departing Buffalo at 0605 am and arriving Miami at 0930 am.  The return flight will depart Miami at 0815 pm arriving Buffalo at 11:15 pm. Bookings for the added route started on July, 14th.
William R. Vanecek, the NFTA's Director of Aviation said, "We are thrilled American Airlines will provide another option for travelers to this popular destination. This illustrates the continuing air service growth at the Buffalo Niagara International Airport."
The 319 aircraft features 8 seats in First Class, 24 seats in the Main Cabin with more legroom and reserved bin space, and 96 seats in the main cabin, in addition to more entertainment options and power outlets in every seat.
"The introduction of service from Buffalo to American's Miami hub is a huge win for our customers in the greater Niagara area," said Aquino Bonelli, American's general manager for Buffalo. "We are now able to connect people to hundreds of destinations worldwide; including unprecedented access to our gateway to Latin American and the Caribbean."
About American Airlines Group
American Airlines and American Eagle offer an average of nearly 6,700 flights per day to nearly 350 destinations in more than 50 countries. American has hubs in Charlotte, Chicago, Dallas/Fort Worth, Los Angeles, Miami, New York, Philadelphia, Phoenix, and Washington, D.C. American is a founding member of the oneworld alliance, whose members serve more than 1,000 destinations with about 14,250 daily flights over 150 countries. Shares of American Airlines Group Inc. trade on Nasdaq under the ticker symbol AAL. In 2015, its stock joined the S&P 500 index. Connect with American on Twitter @AmericanAir and at Facebook.com/AmericanAirlines.
First of its Kind Event
NEWS RELEASE


NIAGARA FALLS, N.Y.- The Niagara Frontier Transportation Authority announced today that the Niagara Falls International Airport will play host to a premier 5K race Sunday, Aug. 19, at 10 a.m. using its main runway.
The Calspan Run the Runway, a certified 5K race, will take place exclusively on the airport's main 10,825-foot-long runway and adjoining taxiways. The event is being coordinated by Eclipse Multi-Sport, a local race management company that highlights the family experience in fitness activities and has raised thousands of dollars for charitable partners in WNY for over a decade.
William R. Vanecek, the NFTA's Director of Aviation said, "We are pleased to host this first of its kind event to take place on the aviation side of our airport. Using the main runway as the race course will give participants a unique perspective as they will have an opportunity to be on a course they have never run before. "
Calspan officials say the company is thrilled to be the title sponsor of the inaugural Calspan
Runway 5K, which provides participants a unique opportunity to run a 5K on the Niagara Falls
International Airport runway. Supporting this event represents Calspan's long standing commitment to giving back to the community and our rich history in aviation research and development.
Friends of Family Support Association, 914th Tactical Airlift Wing and the Niagara Aerospace Museum have been designated to receive a portion of the net proceeds from the race. The mission of the FFSA is to support military families in coordination with the Family Support Center located on the Niagara Falls Air Reserve Base. The Niagara Aerospace Museum located in the former NFIA terminal displays a varied collection of aviation artifacts, in addition to providing extensive educational programming, focusing on the area's role in our nation's extensive aerospace history.


Registration for the race is now open. Participants can sign up online at eclipsemultisport.wixsite.com/runway5k or at niagarafallsairport.com. Participants and guests will be screened prior to accessing the secure side of the terminal's ramp area, just as they would prior to taking a flight. Registration opens at 8 a.m., with the race starting at 10 a.m. Free parking will be available in airport lots. Participants are encouraged to car pool. The NFIA is located at 2035 Niagara Falls Blvd., Niagara Falls, NY.
Community Appreciation Night offers discounts, giveaways, and entertainment
NEWS RELEASE

BUFFALO, N.Y. - NFTA/Metro Bus and Rail will hold its annual Community Appreciation Night at Coca-Cola Field, June 26, before the Buffalo Bisons take on the Pawtucket Red Sox at 7:05 p.m. 
NFTA and Metro staff will be on hand at the main entrance plaza an hour before the game to meet game-goers, with give-a-ways (while supplies last).  A full size 40-foot bus will be on-site, which operates on compressed natural gas.   The "green" CNG vehicles are more environmentally friendly helping to decrease fuel costs and greatly reducing overall emission levels. The latest Paratransit vehicle, which is one of the first front wheel drive low-floor vans provides more user-friendly service for riders with special needs.  A Transit Authority Police   K-9 Officer will also be on-site with one of the department's amazing service dogs. The TAPD will also display its fully-functional and very popular "retro" Dodge Diplomat police car, which is an exact replica of the original vehicle used in 1984 when the department originated.   
Kimberley A. Minkel, NFTA Executive Director said, "This annual event presents a great opportunity to thank our many riders for their loyalty as well as talk with potential customers about an additional transportation option for the emerging multi-modal riding community." 
Tickets to the baseball game are available at a discounted rate of $2 per ticket to anyone who presents valid Metro fare at the box office (limit four tickets per person).  Also, anyone having a ticket for the game can ride Metro bus or rail for free all day #doubleplay.  This program is part of an overall customer appreciation initiative to thank customers for being loyal riders of the Metro system and to help make others aware of Metro services.
Citizens for Regional Transit are encouraging Western New Yorkers to take public transportation
NEWS RELEASE


BUFFALO, N.Y., - On Thursday, June 21, Citizens for Regional Transit (CRT), the Niagara Frontier Transportation Authority, Buffalo Niagara Medical Campus, Go Buffalo, and GObike are helping to promote the 13th annual National Dump the Pump Day. With public transit ridership expanding both nationally and locally, this event is a great way to get even more people thinking about, trying out, and ultimately committing to environmentally-friendly transit options.
While reduced carbon emissions and gasoline consumption are among the main benefits of alternative transit options, there are also significant economic advantages. Per the American Public Transportation Association, every $1 invested in public transit generates approximately $4 in economic returns, with every $10 million in operating investment yielding $32 million in increased business sales.
Public transit also provides financial benefits on the individual level. In Western New York, a two-person household can save close to $1,000 per year by downsizing to one car. And for those without a personal vehicle, public transportation provides necessary access to work, school, the grocery store, and other vital locations so they can fully participate in the community.
The Citizens for Regional Transit have been actively working to promote Dump the Pump day and the use of alternative modes of transportation.


"This is when we minimize car-based travel to: highlight approaches for, and the importance of, reducing greenhouse gas (GHG) generation; and begin breaking our fossil fuel intensive travel habits," said Doug Funke, President of the Citizens for Regional Transit.   Doug and their board members have pledged to minimize car-based travel by taking transit on DTP day and throughout DTP week of June 18 through 22. 
To spread information about public transit as well as options such as biking, walking, and carpooling, CRT will join several other local organizations in hosting Dump the Pump Day information tables on June 21. The day-of event details are as follows:
Buffalo Niagara Medical Campus is at Allen/Medical Campus Station, 8 - 10 a.m., with coffee and street musicians
Go Buffalo Niagara is at Downtown Country Market, 10 a.m. – 2 p.m.
Anyone with a ticket for the June 21 Buffalo Bisons game will be able to ride Metro bus and rail for free.
For more information please contact: Doug Funke (President, Citizens for Regional Transit) at 716-691-8528, Helen Tederous, NFTA 716-349-0001, or Lisa Piecki, NFTA 716-855-7672.
Citizens for R­egional Transit (the Citizens' Regional Transit Corporation) is committed to creating a broad base of support for the improvement and expansion of bus and rail transit for all citizens of the Niagara Frontier.
The NFTA is a regional multi-modal transportation authority responsible for airport and surface transportation in Erie and Niagara counties. NFTA/NFTM businesses include a bus, rail and ADA paratransit system, two commercial airports, the Buffalo Niagara International Airport and the Niagara Falls International Airport. 
Vacation Express offers brand-new, non-stop flights from Buffalo to Jamaica winter 2019
NEWS RELEASE


ATLANTA, Ga. – June 20, 2018– Vacation Express announces the launch of a new, seven-night program with non-stop flights from Buffalo Niagara International Airport to Montego Bay, Jamaica starting January 2019. Vacation Express will offer these exclusive, non-stop flights on Sunwing Airlines every Friday from January 25, 2019 through April 19, 2019.
Traveler's will have a new option from Buffalo this winter to avoid the cold, snowy days by warming up in Jamaica for eight days and seven nights on flights with morning departures and afternoon returns. In addition to the new non-stops to Jamaica, Vacation Express will also offer non-stop flights to Punta Cana and Cancun once again in 2019.
Flights to Jamaica will be operated by Sunwing Airlines on state-of-the-art Boeing 737-800 series aircraft seating 189 passengers. Start the vacation off in luxury with Fly Better Service that includes in-flight entertainment, pretzels and non-alcoholic beverages for no extra charge. Upgrade to Elite Plus for an additional $45 each way and enjoy extra legroom, priority check-in and boarding and a free checked bag up to 66 lbs. 
While travelers may purchase airfare only for non-stop, roundtrip flights most travelers are booking vacation packages with air and staying at all-inclusive resorts. Packages can be booked online at VACATIONEXPRESS.com, by calling 1-800-309-4717 or through a local travel agent.
About Vacation Express:
Based in Atlanta, Vacation Express, part of Sunwing Travel Group, is a tour operator specializing in quality, affordable vacation packages to over 30 destinations in the Caribbean, Mexico and Costa Rica. Now in business for over 25 years, Vacation Express is one of the country's largest and most trusted tour operators. Travelers looking for the most affordable, all-inclusive vacations may book Vacation Express' exclusive, non-stop packages through their travel agent, directly by phone seven days a week at 1-800-309-4717 or online at VACATIONEXPRESS.com. Exclusive charter flights are operated by Sunwing Airlines, Allegiant Air, Swift Air, LLC., VivaAerobus, Miami Air International and Volaris.  See Operator/Participant Agreement for details.